Scholar-in-Residence Program
The Law Center has a long history of hosting distinguished legal scholars through the Frances Lewis Scholar-in-Residence program. The Scholar-in-Residence is a distinguished faculty member with a national or international reputation who is on sabbatical (or similar leave) from his or her home institution. During the visit, which may be a semester or a full academic year in length, the Scholar-in-Residence is engaged in a substantial scholarly project. The Scholar-in-Residence also is invited and encouraged to participate in the intellectual life of the Law School, including attending our regular faculty workshop series and other scholarship-related events, presenting the Scholar-in-Residence's own scholarship in a public presentation and/or faculty workshop, and potentially collaborating with members of our faculty on scholarly projects.
2020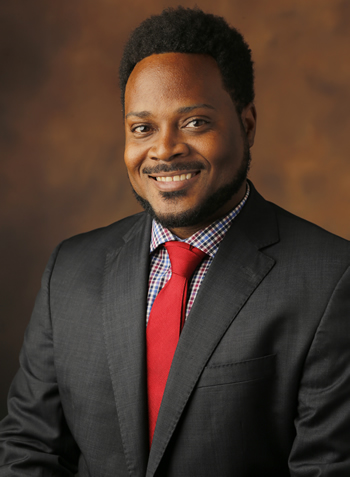 Professor Matthew Shaw of Vanderbilt Law School (with a joint appointment with Vanderbilt's Peabody College of education and human development) is the Scholar-in-Residence for the 2020-2021 academic year. Professor Shaw's teaching and research focuses on educational law and policy, particularly as it affects underrepresented and disadvantaged groups. During his time as Scholar-in-Residence, Professor Shaw will be working on a law review article entitled "The Educational Equities of Plyler v. Doe." As part of this project, Professor Shaw will be using the Powell Archives to examine Justice Powell's education law jurisprudence.
Previous Appointments
2019
Professor D. Wendy Greene is an award-winning anti-discrimination scholar whose work on misperception discrimination and grooming code discrimination has been widely cited and relied on by federal courts, administrative law judges, and state and local legislatures. As part of her visit to W&L, Professor Greene gave a presentation in November 2019 to the University community entitled "#FreeTheHair: How Black Hair is Making Civil Rights Laws Right," which discussed her work combating race-based discrimination faced by African descendants when they don natural hairstyles, as well as municipal, state, and federal legal reforms like the C.R.O.W.N. Act that seek to redress this systematic form of racial discrimination.
2017
Professor Kristin Johnson is nationally recognized as a leading scholar of financial markets regulation with research and teaching expertise in the areas of securities regulation, corporate governance, risk management, compliance, and innovative financial technology, including digital financial products and markets. During her visit as the Scholar-in-Residence, Professor Johnson taught a course on Securities Regulation.
2009
Charles Ngwena, University of Pretoria
2008
Qudsia Mirza, University of London
2007
Eoin O'Dell, Trinity College of Dublin
Jeremy Sarkin, University of Lisbon
2006
Neville R. Cox, Trinity College of Dublin
2005
Chistopher J. Whelan, Oxford
2004
Nicholas Bamforth, Queens College, Oxford
David Richards, NYU
2003
Malgosia Fitzmaurice, University of London
2002
David Bruck, Washington and Lee
2001
Andrew Huxley, University of London
2000
Peggy Cooper Davis, NYU
1999
Hilary Charlesworth, Australian National University (now U of Melbourne)
1998
Deborah DeMott, Duke
1996
Yvonne Scannell, Trinity College of Dublin
1995
Linda Hirshman, Chicago-Kent
1994
Brian Levack, University of Texas
1993
Lewis Solomon, George Washington University
Joseph M. Perillo, Fordham
1991
Richard Delgado, University of Colorado
1990
John C. McCoid II, University of Virginia
Ferdinand Schoeman, South Carolina
1989
Warren Lehman, Wisconsin
1988
Doug Rendleman, William & Mary
1986
Calvin Woodard, University of Virginia
Christopher Osakwe, Tulane
1985
Roger Cramton, Cornell
1984
Richard Nahstoll, Oregon
1983
Harold J. Berman, Harvard
Victor Rosenblum, Northwestern
1982
Curtis Reitz, University of Pennsylvania
1980
Herbert Fingarette, University of California, Santa Barbara
1979
Thomas L. Shaffer, Notre Dame